RNLI Donation
On Wednesday 9th August 2017 Members of the Clyde Cruising Club and Helensburgh & District Branch General Class, presented Helensburgh RNLI Lifeboat with Audio Visual equipment worth over £500. The Class raised almost £200 from our Closing dance with the yotties of CCC raising just over £300 from one of their "Musters". Among those present were Clive Reeves, Commodore of the Clyde Cruising Club, past Commodore Dr Patrick Truss with Allan & Marie Carrie & Helen & Roy Bain representing the General Class, together with Donald McLaren and Colin Gardner of the RNLI.
Helensburgh RNLI Lifeboat station takes delivery of a new Atlantic 85 inshore lifeboat in October. This is a larger, 4 man, rib than the present 3 man boat and RNLI are currently trying to raise £20,000 towards the training costs for the new boat. As much of the training is by digital delivery the A/V equipment is an essential addition to their Training Room.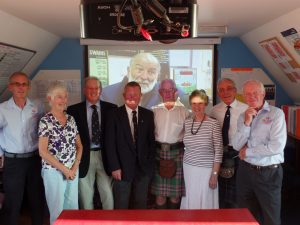 Branch Award Winners
Congratulations to Branch Award Winners Anne Thorn and Helen Rodger, whose enormous contributions over the years both to the Branch and the world of Scottish Country Dancing, were publicly acknowledged at the Branch AGM on Thursday 7th of September.
Thank you ladies!